C-ALL WEB GUIDES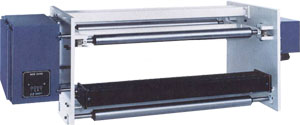 JARDIS INDUSTRIES, INC. Web Guide Systems provide the precise web alignment required to maintain print to margin register and accurate folding in modern high speed offset printing presses. A closed loop system, employing the C-All scanner bar, is used to monitor the web and compensate for any incoming web sidelay variations. The result is a better printing job with less waste.

The C-All Web Guide provides press operators with the most advanced makeready features available in the web printing industry. The full width infrared scanning bar ("curtain of light") provides fully automatic set-up by virtue of the ability to identify any web size at any location within the press operating range.



After selection of the web guide mode by the operator, the system will lock on and maintain web position at the desired location. The additional feature of a web break output signal adds unparalleled press protection.

C-ALL Webguides can be built into Infeeds, Chill Roll Stands, in combination with Silicone Applicators and Compensators.

Standard Features
No scanner heads to move.
One switch automatic set-up.
Edge guide or centerline guide.
Remote panel controls.
Bar graph display, indicating running web position.
Reel stand sidelay feedback.
Built-in web break detector.
Solid state circuitry.
Rugged construction for high speed.
Integrates into infeeds, web coaters, and chill stands.